Magnalight.com Introduces Rechargeable LED Light Stick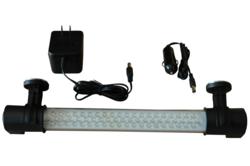 Designed for use anywhere, the WL-LED-12-M LED light stick from Larson Electronics' Magnalight combines the convenience of rechargeable portability with the versatility of magnetic mounting.
Containing 60 LEDs powered by an integral Ni/Hm battery, this LED light stick produces enough light to cover an area approximately 25 foot long by 20 foot wide, and will run for over four hours on a single charge. An impact, shock, and vibration resistant housing provides durable operation and makes this light suitable for indoor or outdoor use. The long life LEDs have a 100,000 hour lifetime rating and will provide years of reliable operation.
This LED light has two built in 20 lbs grip magnets that allow the unit to be attached to any ferrous metallic surface. This feature is ideal for automotive and work applications where the user needs effective illumination that leaves their hands free. This unit also has predrilled through holes to allow mounting the unit with screws for permanent or semi-permanent mounting such as would be found in machine light applications.