Mighty Bright Debuts Line of LUX LED Task Lights for Hospitality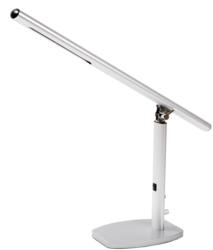 Mighty Bright, designer and manufacturer of innovative LED lighting products, introduces LUX LED Task Lights for Hospitality at Boutique Design New York (BDNY), the premier hospitality tradeshow, taking place in New York City at Javits Center North, November 13-14, 2011. Streamlined and sophisticated, LUX LED Task Lights for Hospitality exemplify Mighty Bright's commitment to provide lighting solutions that are functional, eco-friendly, and embody a simple aesthetic elegance.
The LUX line features two styles of LED task lights—LUX Bar and LUX Dome—that provide accent and essential lighting in guest rooms, lobbies, suites, and back-of-house offices. Both styles complement all décor and offer guests a warm, energy-efficient light for work and reading. These new designs compromise neither form nor function and fit beautifully in luxury hotels, boutique hotels, modern chain lodging, and corporate offices.