Noribachi Announces LED Prix 2.0 Technology Upgrade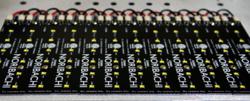 Noribachi, lightening the grid load with smart energy products, announces technology and performance upgrades to its LED lighting solutions with LED Prix 2.0, Noribachi's proprietary LED customization technology. The upgrade includes numerous advancements in the thermal management of Noribachi's custom retrofit bulbs, DLC certification for Noribachi's key products and significantly lowered pricing – reflecting Noribachi's goal of advancing the mainstream adoption of LED technology.
Noribachi's LED Prix 2.0 upgrade includes DLC certification of one of the company's most popular bulbs, the LIN.24.REC, as a "LED retrofit kit for pole/arm mounted outdoor area and roadway luminaires." Noribachi's bulb not only exceeded DLC standards, but also tested as the brightest product in its category.
Achieving DLC certification as a retrofit kit rather than as a stand-alone fixture highlights the versatility of Noribachi's custom bulbs. Because the LIN.24.REC can be retrofitted into almost any fixture, new or existing, it extends DLC certified illumination into a much wider range of applications. Noribachi is currently in the process of DLC certifying its entire product line. Scheduled to receive certification in the next few weeks are Noribachi's most popular LED fixture, the HIGHBAY.M, and the remaining retrofit bulbs in the same DLC family as the LIN.24.REC